Not sure which machine is right for you? Contact our experienced team today.
Get to know the LEMAS 4TR Series
Standard Features
Double-Pinch Plate Bending Roll
Direct-drive design using no belts or chains -Less maintenance, better performance
-Spherical roller bearings on all rolls
-Hydraulically powered bending rolls – No manual adjustment needed.
-Power tilting side bending rolls for cone rolling – No need to manually adjust for cone bending
-Cone bending attachment – Already integrated for your cone bending needs
-Control panel on wheels with digital readouts for position of both side bending rolls – All machine controls easily located.
-Hydraulically operated drop-end for quick removal of rolled product – Easy open allows you to easily slide out finished part
-Forward/Reverse rotation controls – Ability to walk around entire machine while controlling rotation
-Upper and lower pinch rolls driven
-All rolls heat treated to 50 Rc – Keeping your rolls in peak condition as long as possible
-Sumitomo Cyclo® 6000 gear-less speed reducers – The hardest working in the industry.
-Manual tilt of the lower pinch roll
-Emergency stop cable
-Hydraulic oil, tools, training video, schematics, technical manual
Optional Equipment
Top supports
Infinitely Variable Speed Control
And more
Custom-designed plate rolls are also available. This can be special roll diameter or roll length or even shape of the rolls. Sometimes it is required with grooves or hardened rings to enable rolling of plates with flanges. Never hesitate to ask us for advice!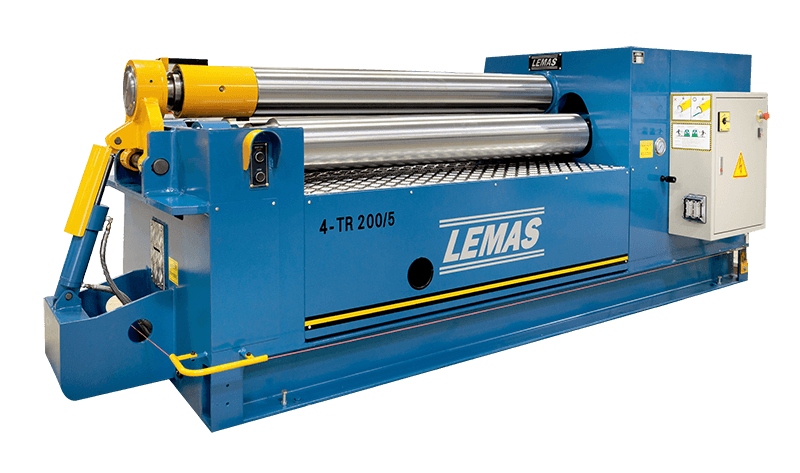 Model
Capacity
Description
Price
Status
Info
LEMAS 4-TR 80/3

Capacity: 3′ x 13 Ga. Mild Steel

3′ x 13 Ga. Mild Steel

New, Direct-Drive, 4-Roll, Double Pinch, Digital Readouts, Hardened & Ground Rolls and more!

$27,800
Get a Quote
LEMAS 4-TR 80/4

Capacity: 4′ x 14 Ga. Mild Steel

4′ x 14 Ga. Mild Steel

New, Direct-Drive, 4-Roll, Double Pinch, Digital Readouts, Hardened & Ground Rolls and more!

$28,100
Get a Quote
LEMAS 4-TR 100/4

Capacity: 4′ x 11 Ga. Mild Steel

4′ x 11 Ga. Mild Steel

New, Direct-Drive, 4-Roll, Double Pinch, Digital Readouts, Hardened & Ground Rolls and more!

$29,350
Get a Quote
LEMAS 4-TR 120/4

Capacity: 4′ x 10 Ga. Mild Steel

4′ x 10 Ga. Mild Steel

New, Direct-Drive, 4-Roll, Double Pinch, Digital Readouts, Hardened & Ground Rolls and more!

$35,300
Get a Quote
LEMAS 4-TR 140/4

Capacity: 4′ x 3/16″ Mild Steel

4′ x 3/16″ Mild Steel

New, Direct-Drive, 4-Roll, Double Pinch, Digital Readouts, Hardened & Ground Rolls and more!

$36,400
Get a Quote
LEMAS 4-TR 160/4

Capacity: 4′ x 1/4″ Mild Steel

4′ x 1/4″ Mild Steel

New, Direct-Drive, 4-Roll, Double Pinch, Digital Readouts, Hardened & Ground Rolls and more!

$36,800
Get a Quote
LEMAS 4-TR 180/4

Capacity: 4′ x 3/8″ Mild Steel

4′ x 3/8″ Mild Steel

New, Direct-Drive, 4-Roll, Double Pinch, Digital Readouts, Hardened & Ground Rolls and more!

$41,300
Get a Quote
LEMAS 4-TR 200/4

Capacity: 4′ x 9/16″ Mild Steel

4′ x 9/16″ Mild Steel

New, Direct-Drive, 4-Roll, Double Pinch, Digital Readouts, Hardened & Ground Rolls and more!

$49,250
Get a Quote
LEMAS 4-TR 80/5

Capacity: 5′ x 16 Ga. Mild Steel

5′ x 16 Ga. Mild Steel

New, Direct-Drive, 4-Roll, Double Pinch, Digital Readouts, Hardened & Ground Rolls and more!

$29,900
Get a Quote
LEMAS 4-TR 100/5

Capacity: 5′ x 12 Ga. Mild Steel

5′ x 12 Ga. Mild Steel

New, Direct-Drive, 4-Roll, Double Pinch, Digital Readouts, Hardened & Ground Rolls and more!

$29,900
Get a Quote
LEMAS 4-TR 120/5

Capacity: 5′ x 10 Ga. Mild Steel

5′ x 10 Ga. Mild Steel

New, Direct-Drive, 4-Roll, Double Pinch, Digital Readouts, Hardened & Ground Rolls and more!

$35,800
Get a Quote
LEMAS 4-TR 140/5

Capacity: 5′ x 3/16″ Mild Steel

5′ x 3/16″ Mild Steel

New, Direct-Drive, 4-Roll, Double Pinch, Digital Readouts, Hardened & Ground Rolls and more!

$37,200
Get a Quote
LEMAS 4-TR 160/5

Capacity: 5′ x 1/4″ Mild Steel

5′ x 1/4″ Mild Steel

New, Direct-Drive, 4-Roll, Double Pinch, Digital Readouts, Hardened & Ground Rolls and more!

$37,600

On Order

Get a Quote
LEMAS 4-TR 180/5

Capacity: 5′ x 5/16″ Mild Steel

5′ x 5/16″ Mild Steel

New, Direct-Drive, 4-Roll, Double Pinch, Digital Readouts, Hardened & Ground Rolls and more!

$42,600
Get a Quote
LEMAS 4-TR 200/5

Capacity: 5′ x 1/2″ Mild Steel

5′ x 1/2″ Mild Steel

New, Direct-Drive, 4-Roll, Double Pinch, Digital Readouts, Hardened & Ground Rolls and more!

$50,700
Get a Quote
LEMAS 4-TR 160/6

Capacity: 6′ x 3/16″ Mild Steel

6′ x 3/16″ Mild Steel

New, Direct-Drive, 4-Roll, Double Pinch, Digital Readouts, Hardened & Ground Rolls and more!

$39,600
Get a Quote
LEMAS 4-TR 180/6

Capacity: 6′ x 1/4″ Mild Steel

6′ x 1/4″ Mild Steel

New, Direct-Drive, 4-Roll, Double Pinch, Digital Readouts, Hardened & Ground Rolls and more!

$45,050
Get a Quote
LEMAS 4-TR 200/6

Capacity: 6′ x 3/8″ Mild Steel

6′ x 3/8″ Mild Steel

New, Direct-Drive, 4-Roll, Double Pinch, Digital Readouts, Hardened & Ground Rolls and more!

$54,400

On Order

Get a Quote
LEMAS 4-TR 180/8

Capacity: 8′ x 3/16″ Mild Steel

8′ x 3/16″ Mild Steel

New, Direct-Drive, 4-Roll, Double Pinch, Digital Readouts, Hardened & Ground Rolls and more!

$51,400
Get a Quote
LEMAS 4-TR 200/8

Capacity: 8′ x 5/16″ Mild Steel

8′ x 5/16″ Mild Steel

New, Direct-Drive, 4-Roll, Double Pinch, Digital Readouts, Hardened & Ground Rolls and more!

$57,600

On Order

Get a Quote
LEMAS 4-TR 180/10

Capacity: 10′ x 10 Ga. Mild Steel

10′ x 10 Ga. Mild Steel

New, Direct-Drive, 4-Roll, Double Pinch, Digital Readouts, Hardened & Ground Rolls and more!

$57,600
Get a Quote
LEMAS 4-TR 200/10

Capacity: 10′ x 1/4″ Mild Steel

10′ x 1/4″ Mild Steel

New, Direct-Drive, 4-Roll, Double Pinch, Digital Readouts, Hardened & Ground Rolls and more!

$66,650
Get a Quote