SB3 Series
Three-Roll Angle Roll
The SB3 series is the perfect angle roll for various applications, featuring universal tooling and a wide capacity range.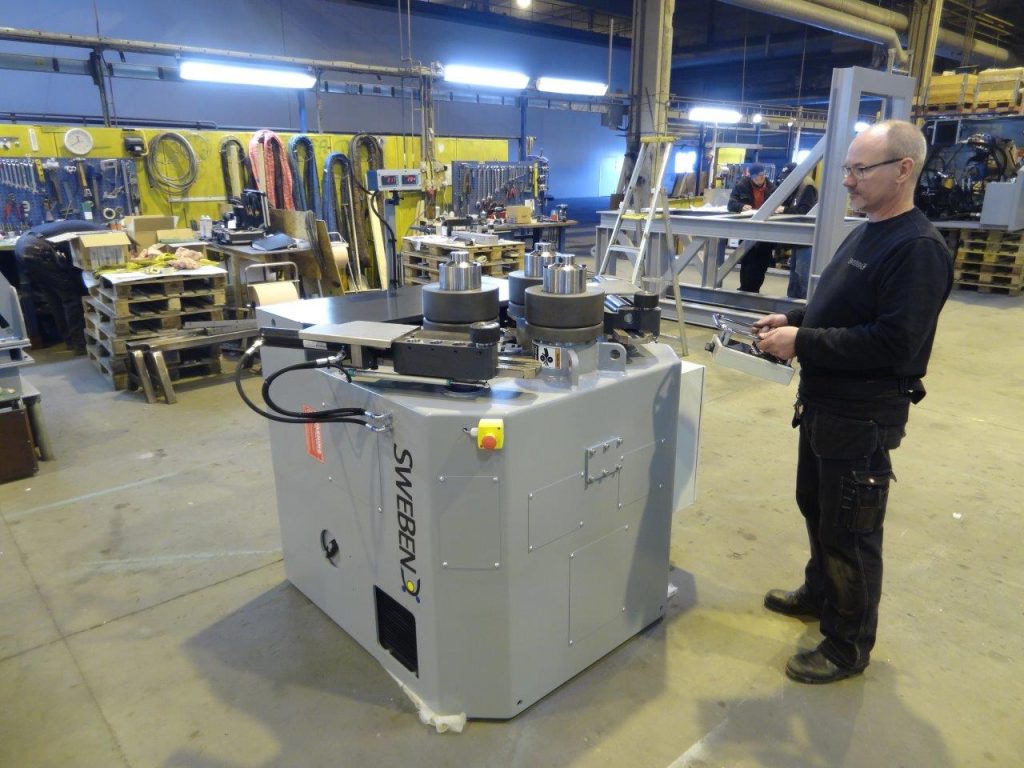 ---
SB4 Series
FOUR-Roll Angle Roll
Ideal for use with SweBend's Seven CNC control, the four-roll angle rolls give you even greater advantages and performance.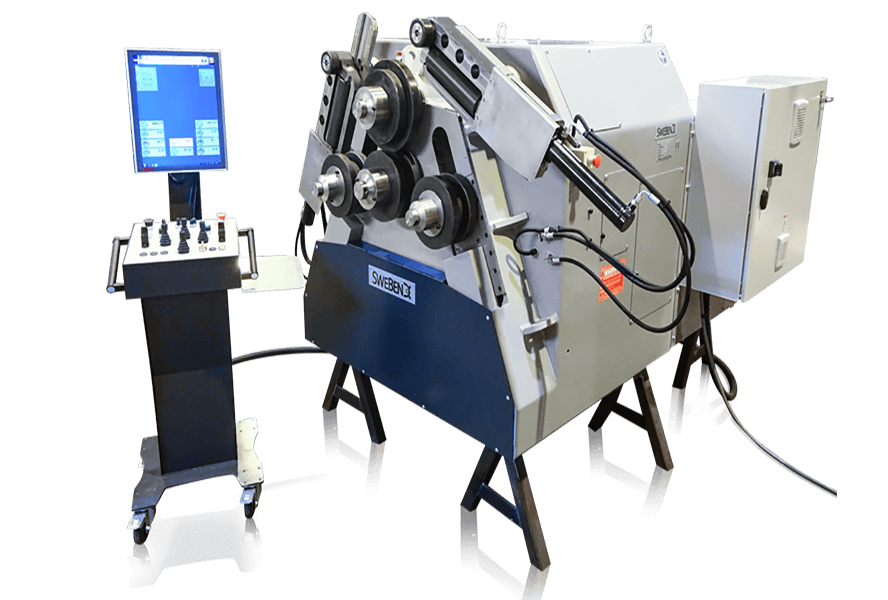 Not sure which machine is right for you? Contact our experienced team today.
The SweBend SB3 Series
Three-Roll Double-Pinch Angle Bending Rolls
The SB3 angle roll series features guide rolls that follow the main bending rolls. The guide rolls are mechanically adjusted to support the material entering the machine and facilitate the rolling of asymmetric sections like angle iron. Operate your machine with our Bluetooth Bending Control – customized for you. The future is here! The SweBend SB3 Angle Roll will ensure your crucial position as a multifaceted bending specialist.
Standard Features
Universal roll set for common profiles such as angle, flat bar, and T's.
Digital Readouts for Roll Positions
Wireless Bluetooth Control (most models)
Variable Speed (most models)
Vertical or Horizontal Rolling (most models)
Guide Rolls for rolling asymmetric shapes (manual or powered hydraulic, depending on machine size)
High-quality commercial components, including SKF bearings
Optional Equipment
Special roll sets for virtually any profile shape or size
Robotic Loading and Unloading
Turbo Package – Increased Drive Torque
Angle Measurement System
Dynamic Radius Adjustment System
Custom-designed angle and section rolls are also available for virtually any application. Never hesitate to ask us for advice!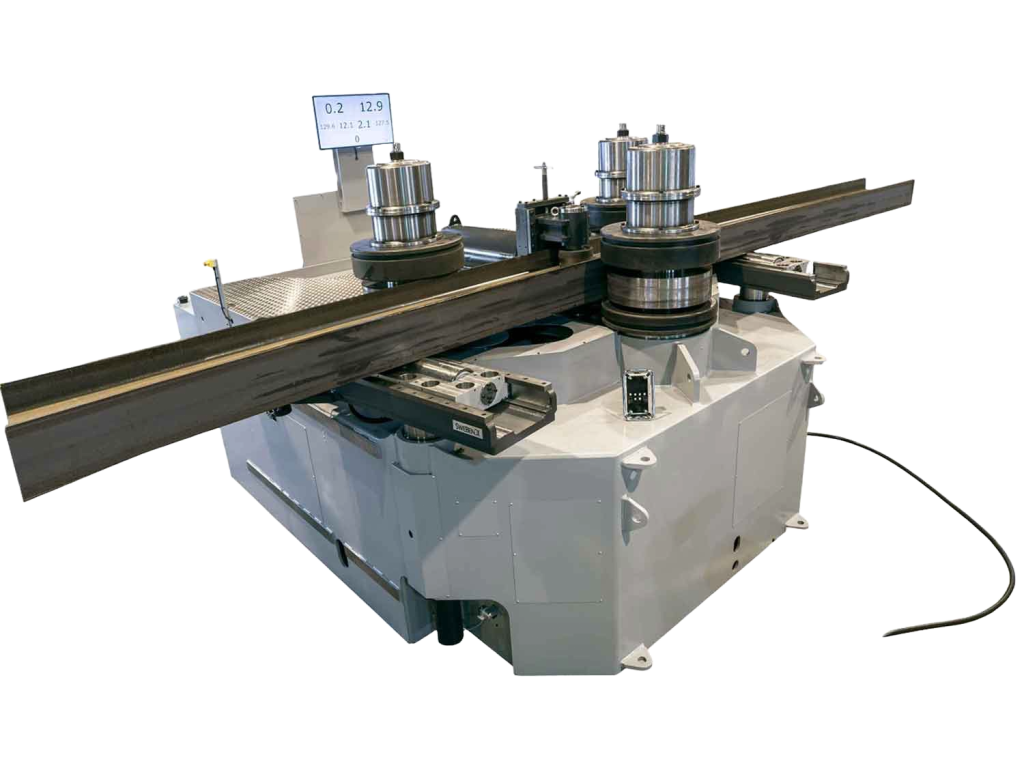 The SweBend SB4 Series
Four-Roll Double-Pinch Angle Bending Roll
The SB4 angle roll series with the SEVEN CNC system is ideal for repetitive series production. The series is powered by our unique hydraulic solution which makes it possible to interpolate ALL machines' axes simultaneously. Create optimal results in only one pass with our double pinch bending mechanism. These machines are what "Precision Bending, Simplified" really means.
Standard Features
Universal roll set for common profiles such as angle, flat bar, and T's.
Digital Readouts for Roll Positions
Wireless Bluetooth Control (most models)
Variable Speed (most models)
Vertical or Horizontal Rolling (most models)
Guide Rolls for rolling asymmetric shapes (manual or powered hydraulic, depending on machine size)
High-quality commercial components, including SKF bearings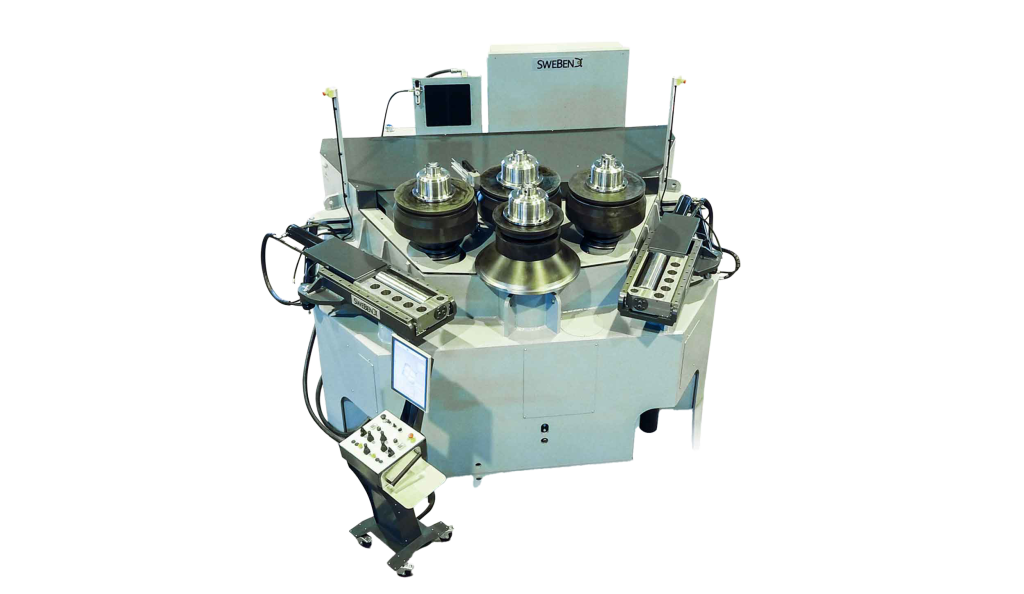 Model
Capacity
Description
Price
Status
Info
SWEBEND SB3B-65

Capacity: 2″ x 2″ x 5/16″

2″ x 2″ x 5/16″

New, 3-Roll Hydraulic Section Bending Roll. Digital Readouts for Lower Bending Rolls, Dual Execution (Vertical/Horizontal), Manual Guide Rolls. **Compatible with Roundo R-2 Tooling**

PRICE UPON REQUEST

Due In Soon!

Get a Quote
SWEBEND SB3B-75

Capacity: 3″ x 3″ x 5/16″

3″ x 3″ x 5/16″

New, 3-Roll Hydraulic Section Bending Roll. Digital Readouts for Lower Bending Rolls, Dual Execution (Vertical/Horizontal), Manual Guide Rolls. **Compatible with Roundo R-3  and R-3S Tooling**

PRICE UPON REQUEST

In Stock!

Get a Quote
SWEBEND SB3-85S

Capacity: 3″ x 3″ x 3/8″

3″ x 3″ x 3/8″

New, 3-Roll Hydraulic Section Bending Roll. Digital Readouts for Lower Bending Rolls, Wireless Bluetooth Control Unit, Variable Speed, Dual Execution (Vertical/Horizontal), 6-Direction Independent Hydraulic Guide Rolls.

PRICE UPON REQUEST
Get a Quote
SWEBEND SB3B-105

Capacity: 3.5″ x 3.5″ x 3/8″ Angle

3.5″ x 3.5″ x 3/8″ Angle

New, 3-Roll Hydraulic Section Bending Roll. Digital Readouts for Lower Bending Rolls, Wireless Bluetooth Control Unit, Variable Speed, Dual Execution (Vertical/Horizontal), Manual Guide Rolls. **Compatible with Roundo R-4  and R-4S Tooling**

PRICE UPON REQUEST

In Stock!

Get a Quote
SWEBEND SB3S-105

Capacity: 4″ x 4″ x 1/2″

4″ x 4″ x 1/2″

New, 3-Roll Hydraulic Section Bending Roll. Digital Readouts for Lower Bending Rolls, Wireless Bluetooth Control Unit, Variable Speed, Dual Execution (Vertical/Horizontal), Hydraulic Guide Rolls. **Compatible with Roundo R-4  and R-4S Tooling**

PRICE UPON REQUEST
Get a Quote
SWEBEND SB3S-140

Capacity: 5″ x 5″ x 1/2″ Angle

5″ x 5″ x 1/2″ Angle

New, 3-Roll Hydraulic Section Bending Roll. Digital Readouts for Lower Bending Rolls, Wireless Bluetooth Control Unit, Variable Speed, Hydraulic Guide Rolls. **Compatible with Roundo R-5, R-5S, R-52S Tooling**

PRICE UPON REQUEST

On Order

Get a Quote
SWEBEND SB3S-180

Capacity: 6″ x 6″ x 1/2″ Angle

6″ x 6″ x 1/2″ Angle

New, 3-Roll Hydraulic Section Bending Roll. Digital Readouts for Lower Bending Rolls, Wireless Bluetooth Control Unit, Variable Speed, Hydraulic Guide Rolls. **Compatible with Roundo R-6, R-6S, R-62S Tooling**

SOLD
Get a Quote