Get to know the PM Series
Standard Features
Patented double-acting cylinder for the fastest stroke
Double opening die block for punching up to 2″ diameter holes, gauging leg down, or channel flanges
Gauge table for punching with machined XY gauge bars on ball bearings
LED Magnetic work light
Set of 11 standard round punches and dies from 3/8″ – 1.5″
2 Year Parts, 1 Year Labor warranty
Owner's Manual, Tool Kit, Training video, Schematics
Lifetime free technical support by phone or email
Optional Attachments
Press Brakes, Vee-Notchers, Shearing Tools, Angle Bending, Flip-Stops, and more! Download the accessory catalog!
Sunrise CNC Options
Semi-CNC options are readily available for the Sunrise Single-End Punches. With the ability to position up to 144″ material, add multiple punches, and more! Be sure to check out the fully automatic ANC punching system, capable of punching up to 40′ lengths of angle, channel, or flat bar!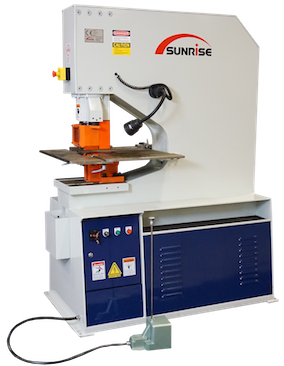 Not sure which machine is right for you? Contact our experienced team today.
Model
Capacity
Description
Price
Status
Info
Sunrise PM-38T – Single-End Punch

Capacity: 38 Tons

38 Tons

New, Single-Cylinder Punching Machine, High-Speed, Includes Efficiency Package, 2″ Oversize Die-Block, New 3 Year Warranty!

$10,950

On Order

Get a Quote
Sunrise PM-60LT – Single-End Punch

Capacity: 60 Tons

60 Tons

New, Single-Cylinder Punching Machine, High-Speed, Includes Efficiency Package, 2″ Oversize Die-Block, New 3 Year Warranty!

$14,575

In Stock!

Get a Quote
Sunrise PM-88LT – Single-End Punch

Capacity: 88 Tons

88 Tons

New, Single-Cylinder Punching Machine, High-Speed, Includes Efficiency Package, 2″ Oversize Die-Block, New 3 Year Warranty!

$19,745

In Stock!

Get a Quote
Sunrise PM-130LT – Single-End Punch

Capacity: 130 Tons

130 Tons

New, Single-Cylinder Punching Machine, High-Speed, Includes Efficiency Package, 2″ Oversize Die-Block, New 3 Year Warranty!

$27,445

In Stock!

Get a Quote
Sunrise PM-220LT – Single-End Punch

Capacity: 220 Tons

220 Tons

New, Single-Cylinder Punching Machine, High-Speed, Includes Efficiency Package, 2″ Oversize Die-Block, New 3 Year Warranty!

$49,950

In Stock!

Get a Quote